Whether you're an aspiring filmmaker, journalist, podcaster, or musician, the tools that are available to "D-I-Y" for your own content keep getting more affordable, and accessible.
It can be difficult to decide on the equipment that will work for you without trying it, which is why Rock N Roll Rentals is the best option for creating content like Podcasts or Live-Streaming. You can browse different equipment, try it out to see what works best for you, and when you find the right tools, you can rent them by the month, or even buy them at a great price!
We love to encourage creativity and DIY projects, and can be a great resource for helping you find the best gear to make your projects a success! Here are a few great options to get you started making your own podcast or livestream content:
Podcasting Packages
1) All-in-One Podcasting
$9 / weekend or $19 / month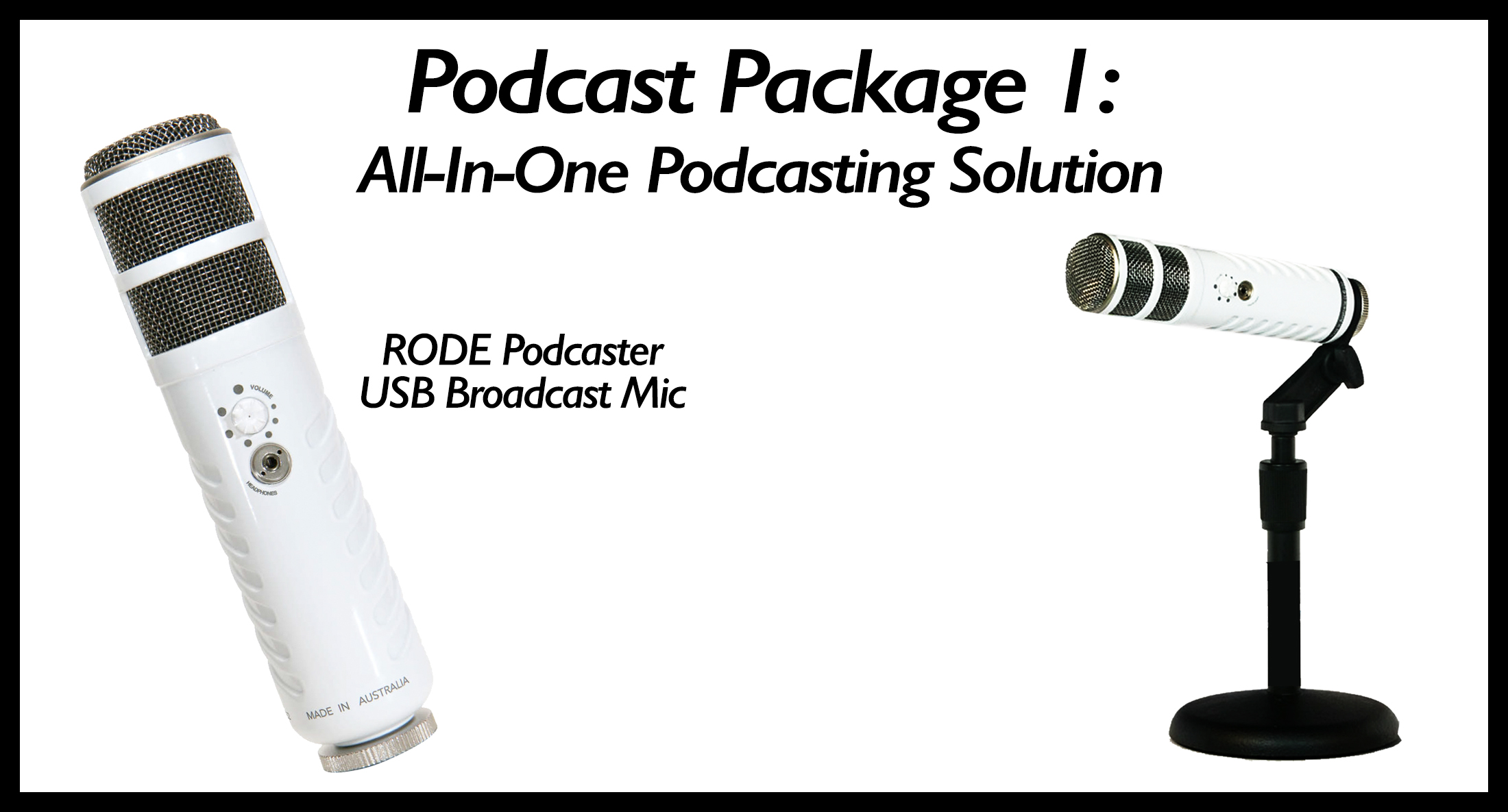 The All-In-One Podcasting Package is perfect for solo-podcast ventures! If you've found a subject or have a story to tell, this is all you need to make a pro-level podcast at home with your laptop or desktop.
This Package Includes:
Rode Podcaster
Short-stand with Mic Clip
All Necessary Cables
This package consists of a broadcast quality mic, with onboard headphone amplification and A/D conversion. Simply plug this mic into your computer via USB and take off! It is compatible with both PC and Mac, and there are great free recording programs to get you started.
If you're unsure of where to start, try Audacity or Studio One 4 Prime for a free program if you are new to recording on your computer!
2) Podcasting & Interviews
$23 / weekend or $46 / month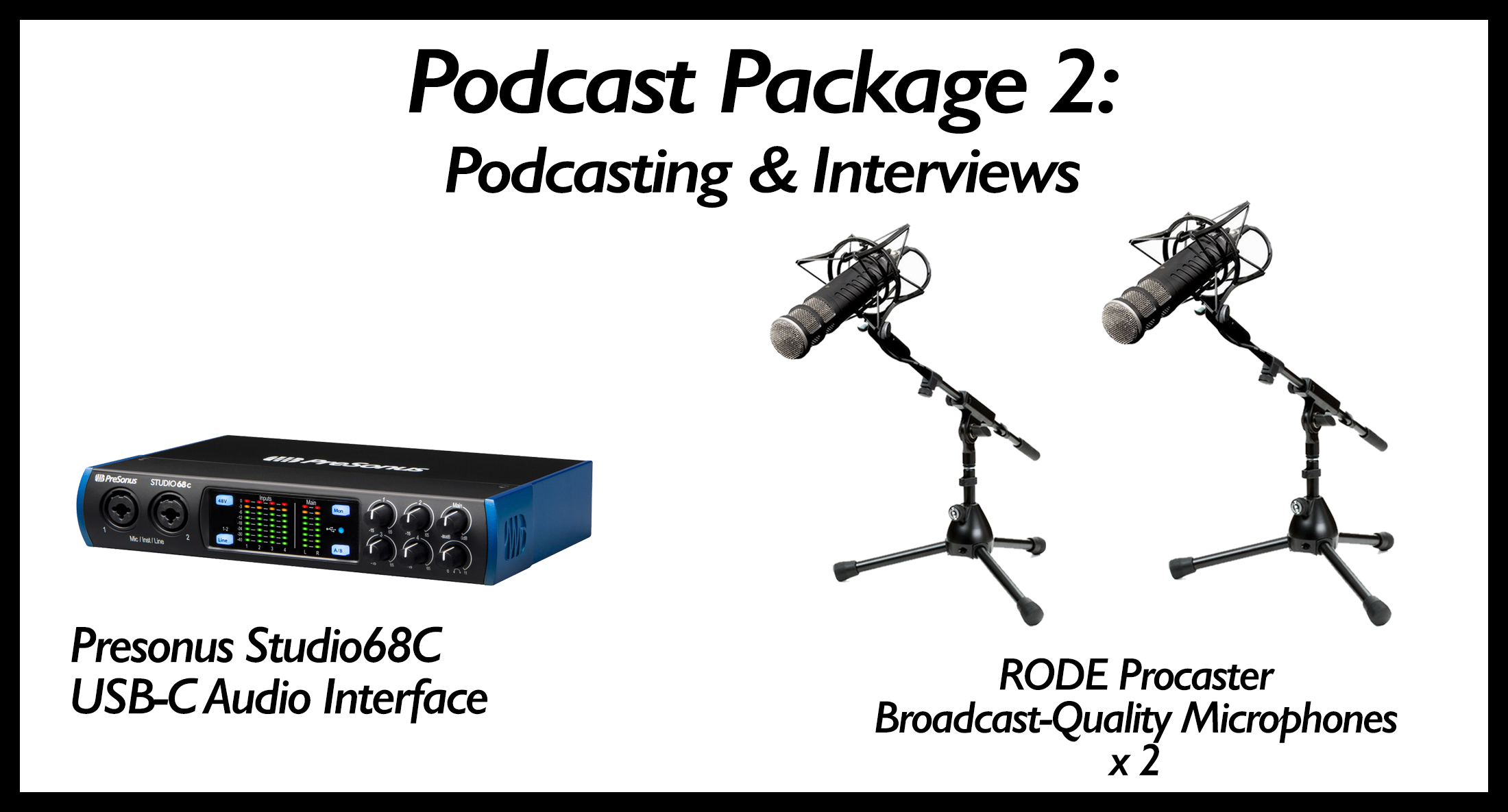 The Podcasting & Interviews Package is perfect for interviews, shows with two hosts, or any podcasting situation the requires more than a single voice! These broadcast mics deliver the highest quality speech, and this set up can be great for a wide array of applications. All you need is a laptop or desktop to use this equipment to have the same type of gear as all of your favorite podcasters!
This package includes:
Rode Procaster Broadcast Quality Microphones x 2
Studio24C USB Audio Interface
Short Stand with Boom Arm x 2
All Necessary Cables
Most of the popular podcasts available have used nearly identical equipment to that in this package
If you're just getting started, you might be curious about what the functionality of this set-up. To briefly explain: the microphones are used to turn speech into an electrical signal which becomes sound waves. These sound waves are converted to digital information through the audio interface, which can be recorded on your computer. To provide low-latency monitoring of these sound waves, a headphone amplifier offers multiple headphone outputs.
3) Pro Podcasting with Guests
$41 / weekend or $92 / month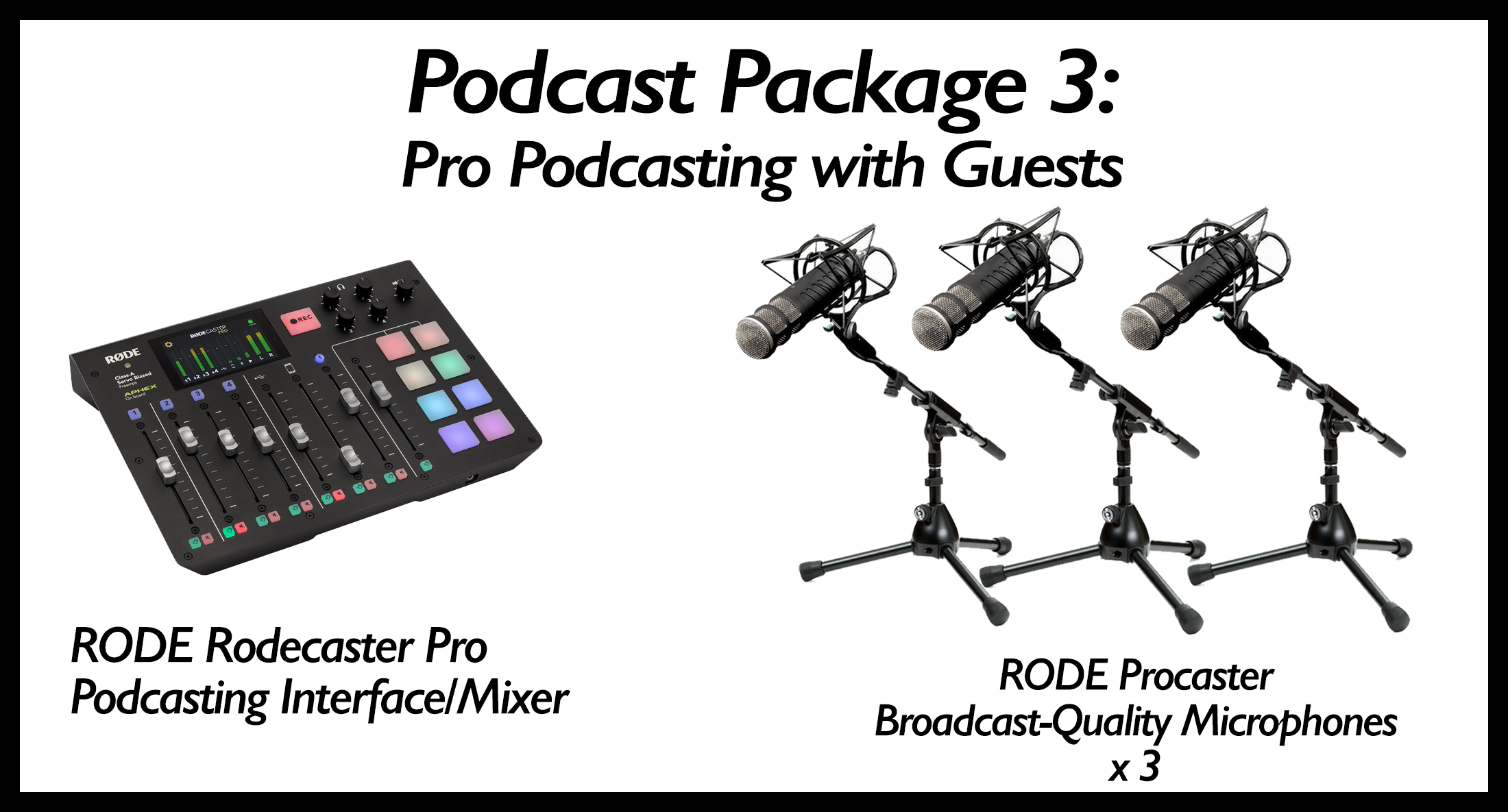 As podcasting has become a more popular format, new tools that make production quality easy to achieve are being developed. The Rodecaster is a fantastic new product that provides users with a swiss army knife of podcasting power. From it's noise-reduction bluetooth capabilities to the ad jingles/sound-drop sample pads, Rode seemed to think of absolutely everything you would dream of for making a podcast, and best of all, they made it incredibly simple. For bigger shows with 3+ people talking, and features that allow music playback or phone-in guests, this is a pretty amazing package for pro-podcasting.
This package includes:
Rode Rodecaster Pro Podcaster Production Console/Mixer
Rode Procaster x 3
Short Microphone Stands with Boom x 3
All Necessary Cables
Streaming Packages
1) Live Stream Now!
$12 / weekend or $23 / month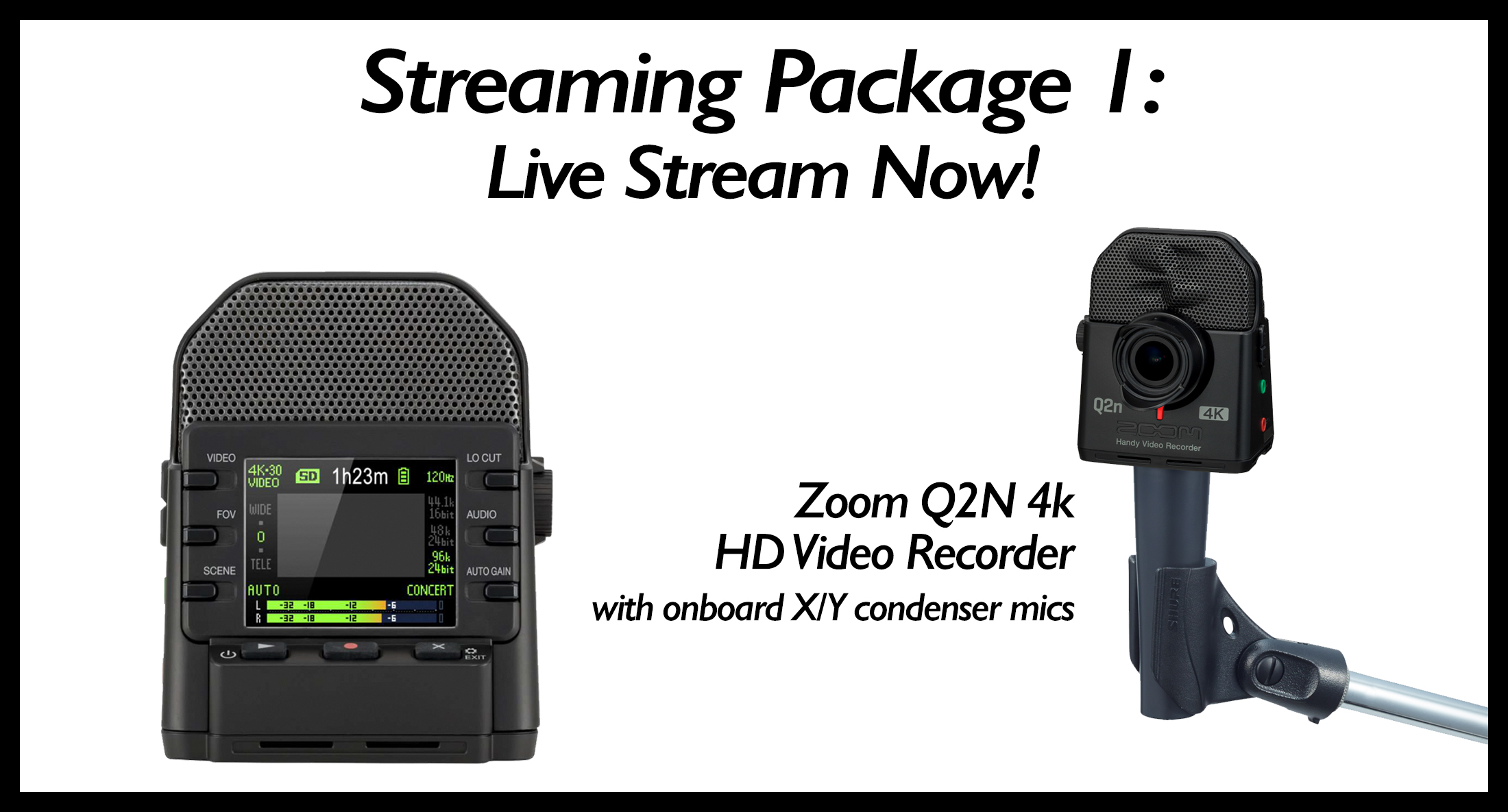 Want to stream a performance or start your own web-show? The Zoom Q2N 4k Camera offers live streaming over USB with incredible video quality in a very small footprint camera. Simply connect this to your laptop over USB and stream to youtube, twitch or any other online streaming site and you can be live online with quality picture and audio.
This package includes:
Zoom Q2N 4K HD Portable Video Recorder with USB Streaming
Camera Tripod
2) Flexible Streaming Package
$18 / weekend or $36 / month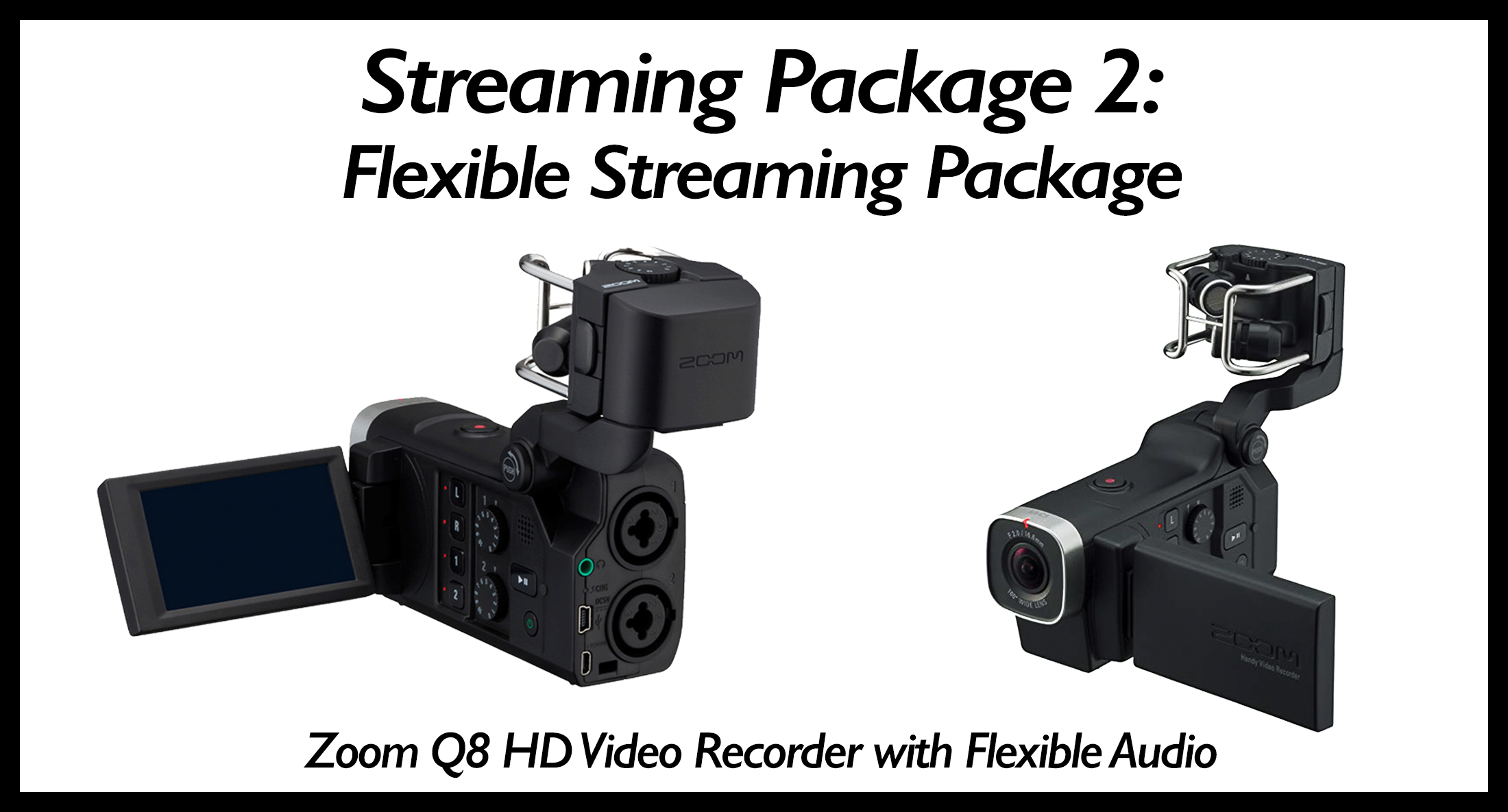 If you want to stream in a multitude of situations, the ZQ8 allows for a flexible but quality video and audio streaming. You can stream wherever you have wifi, in large spaces or small, thanks in part to the 160* wide angle lens with HD quality. The ZQ8 also allows you to connect up to two separate microphones or lines, so you can shoot from the back of a venue and run a mix from your sound guy for streaming online!
This package includes:
Zoom ZQ8N HD Portable Video Recorder with USB Streaming
Camera Tripod
3) Pro A/V Streaming
$56 / weekend or $119 / month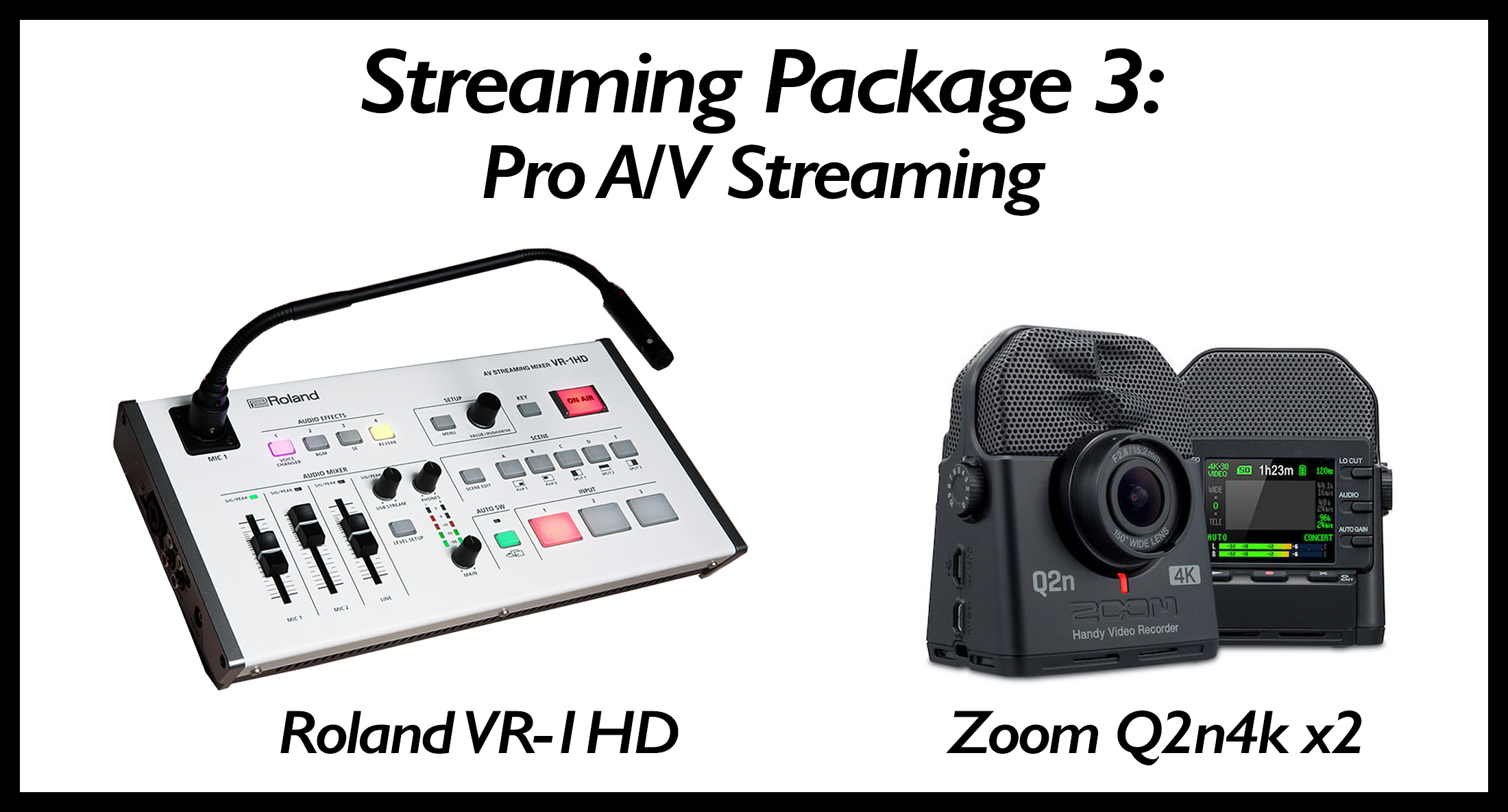 Stream like a pro with this amazingly powerful Video/Audio mixer and two 4k HD cameras for a multi-camera set-up. This package provides you with tools that would have required a commercial grade broadcast studio as recently as a couple years ago. Shooting on your own? This video mixer will even switch cameras for you based on timing of shots or intermittently. This package includes:
Roland VR-1HD Live Streaming A/V Mixer with Multiple Inputs and FX
Zoom Q2N4k HD Video Recorders
All necessary cables
These packages are far from all of the equipment we have for creating great content. Browse our inventory online!
At Rock N Roll Rentals we love to share our knowledge and input about the hottest new products and trending music. Be sure to check out our other blog posts, rental equipment, and products.