Pedal of the Month Club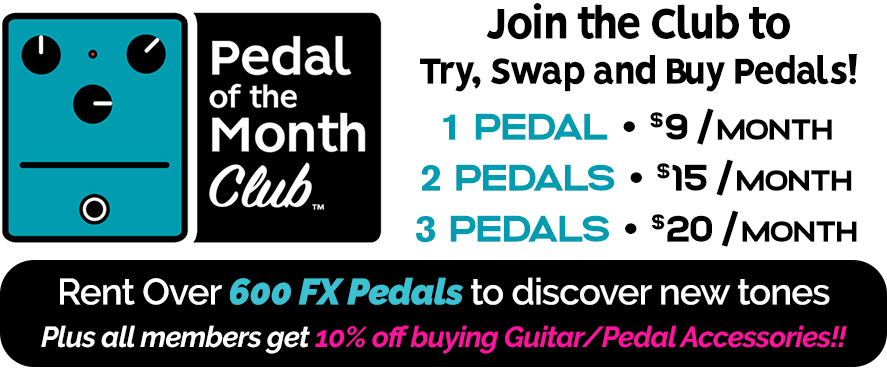 Rent Pedals, Swap 'em, Buy 'em!
Pedal of the Month Club is an awesome way to try Pedals out with your rig, and swap the ones you don't want, and buy the ones you can't live without! Guitarists and FX Enthusiasts love experimenting and Pedal of the Month Club is a fun and affordable way to try pedals and find new tones!
Plus, ALL Pedal Club Members get 10% OFF Buying Guitar and Pedal Accessories AND New and Used Pedals!


If you are a member of the Club and need a your discount code for 10% off pedals and accessories,

CLICK HERE
Effect Pedals in Our Inventory (as of July 30th, 2020)
Below are lists of Pedals in our Pedal of the Month program, and below that are pedals are not "part of the club"
| | | |
| --- | --- | --- |
| Brand | Model | Details |
| Big Joe | POWERBOXLITHIUM | Rechargable Pedal Power Supply |
| Black Cat | BASSOCTAVEFUZZ | Maestro Inspired Bass Fuzz |
| Black Cat | BEEBUZZ | Bee Baa Inspired Fuzz Pedal |
| Black Cat | MINITREM | Tremolo/Clean Boost Pedal |
| Black Cat | MONSTERKFUZZ | Hotrodded 60's "Kay" Style Fuzz |
| Black Cat | NFUZZ | Vintage Japenese Inspired Fuzz |
| Black Cat | OD1 | Overdrive/Boost Pedal |
| Black Cat | ODBOOST | Dual Channel OD/Boost |
| Black Cat | ODFUZZDELUXE | 2 Channel OD/Fuzz Pedal |
| Black Cat | STEREOBCVIBE | Stereo Vibe Pedal |
| Black Cat | SUPERFUZZ | Univox Style Super Fuzz Pedal |
| Boss | AC-3 | Acoustic Simulator |
| Boss | AD-2 | Acoustic Guitar Preamp |
| Boss | AW-3 | Dynamic Wah |
| Boss | BB-1X | Bass Driver |
| Boss | BC-1X | Bass Compressor |
| Boss | BD-2 | Blues Driver |
| Boss | BD-2W | Blues Driver Waza Craft Special Edition |
| Boss | BF-3 | Stereo Flanger Pedal |
| Boss | CE-2W | Waza Craft Analog Chorus |
| Boss | CE-5 | Chorus Ensemble Pedal |
| Boss | CEB-3 | Bass Chorus |
| Boss | CH-1 | Stereo Super Chorus |
| Boss | CP-1X | Compressor Pedal |
| Boss | CS-3 | Compression Sustainer Pedal |
| Boss | DC-2W | Waza Dimension Chorus |
| Boss | DD-20 | Multidelay Unit |
| Boss | DD-3 | Digital Delay |
| Boss | DD-3T | Digital Delay with Tap Tempo |
| Boss | DD-8 | Digital Delay 8 |
| BOSS | DD-200 | Giga Digital Delay Pedal |
| Boss | DD-500 | Digital Delay Pedal |
| Boss | DD-7 | DIGITAL DELAY |
| Boss | DM-2W | Delay Waza Craft Special Edition |
| Boss | DN-2 | DYNA DRIVE |
| Boss | DS-1 | Classic Boss Distortion Pedal |
| Boss | DS-14A | 40th Anniversary Version of Classic Boss Distortion |
| Boss | EQ-200 | Graphic Equalizer Pedal |
| Boss | EV-5 | Expression Pedal |
| Boss | FRV-1 | 63 Fender Spring Reverb Pedal |
| Boss | FV-500H | FOOT VOLUME PEDAL |
| Boss | FZ-5 | Fuzz Pedal |
| Boss | GE-7 | 7-band Equalizer |
| Boss | GEB-7 | Bass 7 Band Eq |
| Boss | GT-1 | Multi-FX Pedal |
| Boss | GT-1B | Bass Multi-FX Pedal |
| Boss | LMB-3 | Bass Limiter/Enhancer Pedal |
| Boss | MD-2 | Mega Distortion Pedal |
| Boss | MD-200 | Modulation FX Pedal |
| BOSS | MD-500 | Multi Effect Pedal |
| Boss | MT-2 | Metal Zone |
| Boss | NS-2 | Noise Suppressor |
| Boss | OC-3 | Super Octave |
| Boss | OD-3 | Boss Overdrive |
| BOSS | OD-200 | Hybrid Multi-Drive Effect Pedal |
| Boss | ODB-3 | Bass Overdrive |
| Boss | OS-2 | Overdrive & Distortion Pedal |
| Boss | PH-3 | Phase Shifter Pedal |
| Boss | PS-6 | 3-voice Guitar Harmony Effects Pedal |
| Boss | PW-10 | Wahpedalw/cosm |
| Boss | RC-1 | Stereo Looping Pedal |
| Boss | RC-3 | Loop Station |
| Boss | RE-20 | Space Echo |
| Boss | RT-20 | Rotary Sound Processor |
| Boss | RV-5 | Stereo Digital Reverb Pedal |
| Boss | RV-6 | Reverb + Delay |
| Boss | SD-1W | Super Overdrive Waza Craft Special Edition |
| Boss | SL-20 | Slicer Audio Pattern Processor Pedal |
| BOSS | SY-1 | Guitar Synthesizer Emulation Pedal |
| Boss | SYB-3 | Bass Synthesizer |
| Boss | SYB-5 | Bass Synthesizer Pedal |
| Boss | TE-2 | Tera Echo |
| Boss | TR-2 | Tremolo |
| Boss | TU-3 | Guitar and Bass Tuner Pedal |
| Boss | TU-3S | Small Footprint Chromatic Tuner |
| Boss | TU-3W | Waza Craft Chromatic Tuner with True Bypass |
| Boss | VB-2W | Waza Craft Vibrato Pedal |
| Boss | VO-1 | Vocoder Pedal |
| Catalin Bread | ADIENKO | Oil Can Delay Pedal |
| Catalin Bread | ANTICHTHON | Oscillator fuzz/tremolo |
| Catalin Bread | BELLEEPOCH | Tape Echo Emulator |
| Catalin Bread | BELLEEPOCHDLX | Deluxe Tape Echo Emulator |
| Catalin Bread | Bicycle Delay | Other wordly delay |
| Catalin Bread | Calisto | Analog Chorus/Vibrato |
| Catalin Bread | CSIDMAN | Glitch/Stutter Delay |
| Catalin Bread | DirtyLilSecret | "Marshall in a Box" distortion |
| Catalin Bread | EchoRec | Multi-Tap Echo Pedal |
| Catalin Bread | FORMULA5F6 | Tweed Bassman-style Overdrive Pedal |
| Catalin Bread | FORMULANO55 | Tweed Deluxe-style Overdrive Pedal |
| Catalin Bread | Fuzzrite | Fuzz with Depth and Volume |
| Catalin Bread | Galileo | Rangemaster English Overdrive |
| Catalin Bread | KARMASUTUREGERM | Germanium Overdrive/Distortion |
| Catalin Bread | KatzenKoenig | Tone Bender Meets Rat Fuzz |
| Catalin Bread | OCTAPUSSY | Dynamic Octave Fuzz |
| Catalin Bread | Nagaviper | Treble Booster Drive |
| Catalin Bread | PERSEUS | Sub Octave Fuzz |
| Catalin Bread | Rah | Overdrive Pedal |
| Catalin Bread | SabbraCadabra | Sabbath inspired drive |
| Catalin Bread | SFT | Ampeg Amp Emulator |
| Catalin Bread | Talisman | Plate Reverb pedal |
| Catalin Bread | Topanga | Spring Reverb pedal |
| Catalin Bread | Valcoder | Valco amp tremolo |
| Catalin Bread | Zeropoint | Manual Studio Tape Flanger |
| Chase Bliss Audio | BROTHERS | Analog Gainstage Boost/OD |
| Chase Bliss Audio | CONDOR | Analog Multieffects EQ/OD/Tremolo |
| Chase Bliss Audio | DARKWORLD | Multi Function Reverb |
| Chase Bliss Audio | GRAVITAS | Analog Tremolo Pedal |
| Chase Bliss Audio | MOOD | Granular Looper/Delay Pedal |
| Chase Bliss Audio | THERMAE | Delay and Pitch Shifter |
| Chase Bliss Audio | TONALRECALLRKM | Red Knob Mod Analog Delay Pedal |
| Chase Bliss Audio | TONALRECALL | Analog Delay Pedal |
| Chase Bliss Audio | WARPEDVINYL | Analog Chrous/Vibrato Pedal |
| Chase Bliss Audio | WOMBTONE | Analog Phaser Pedal |
| Darkglass Electronics | ALPHAOMEGA | EQ/Drive/Preamp Bass Pedal |
| Darkglass Electronics | Hyper Luminal | Compressor/Limiter Bass Pedal |
| Darkglass Electronics | Microtubes SX7 | Preamp/EQ/Boost Bass Pedal |
| Darkglass Electronics | Vintage Microtubes | Distortion/EQ Bass Pedal |
| DEADfx | COMRADE532EQ | 10 band Graphic EQ pedal with blend and fx loop |
| DEADfx | ETRDISTORTION | Concert Lead Style Distortion |
| DEADfx | ICFMFSUPERFUZZ | Univox Style Fuzz |
| Death By Audio | ABSODESTRUCTION | Absolute Destruction Fuzz Pedal |
| Death By Audio | APOCALYPSE | Fuzz Tone Shifter |
| Death By Audio | DEEPANIMATION | Morphing, Sweeping Envelope Filter Pedal |
| Death By Audio | ECHODREAM2 | Advanced Echo Modulator |
| Death By Audio | EVILFILTER | Fuzz/Filter Pedal |
| Death By Audio | EVILFUZZ | Limited Edition Fuzz Pedal |
| Death By Audio | EXITINDEX | Analog Warped Tremolo/Dirty Distortion |
| Death By Audio | FUZZWAR | Explosive Fuzz Pedal |
| Death By Audio | GHOSTDELAY | 3 Stage Digital Echo |
| Death By Audio | INTERSTELLARDLX | 2 Overdrives in One Pedal |
| Death By Audio | INTERSTELLAROD | Overdrive Pedal |
| Death By Audio | MICRODREAM | Echo Modulator Fuzzy Time Control |
| Death By Audio | MICROHARMTRANS | Harmonic Distortion Fuzz |
| Death By Audio | REVERBERATION | Synthetic Atmosphere Creator |
| Death By Audio | ROBOT | 8-Bit Pitch Transformer |
| Death By Audio | SOUNDWAVEBREAK | Transistor Fueled Fuzz |
| Death By Audio | SUPERSONICFUZZGUN | Dynamic Analog Fuzz Pedal |
| Death By Audio | TSA-2 | Total Sonic Annhilation Fuzz Pedal |
| Death By Audio | WAVEFORMDESTROYER | 16-step Manipulative Overdrive |
| Digitech | BassWhammy | Bass Footpedal Pitch Bender |
| DOD | Carcosa | Analog Fuzz Pedal |
| DOD | Dirty Robot | Synth Pedal for Guitar |
| Digitech | Drop | Pitch Drop/Bend Effect |
| DOD | FREQOUT | Natural Feedback Creator |
| DOD | Gonkulator | DOD440 Envelope Reissue |
| DOD | LOOKINGGLASS | Special Boost/Overdrive |
| Digitech | Nautila | Digital chorus & flange |
| DOD | RUBBERNECK | Analog Delay Pedal |
| Digitech | Whammy | Footpedal Pitch Bender |
| Dunlop | CBM95 | Crybaby Mini Wah Pedal |
| Dunlop | DVP3 | Combo Volume/Expression Pedal |
| Dunlop | DVP4 | Miniature Combo Volume/Expression Pedal |
| Dunlop | ECHOPLEX | Classic Delay Pedal |
| Dunlop | GCB95 | Crybaby Wah Pedal |
| Dunlop | GCB95F | Classic Cry Baby Wah Pedal with Fasel Inductors |
| EarthQuaker | ACAPULCOGOLDV2 | Power Amp Distortion |
| EarthQuaker | AFTERNEATHV3 | Otherworldly Reverberation |
| EarthQuaker | AQUEDUCT | 8-mode Vibrato/Modulation Pedal |
| EarthQuaker | ARPANOID | Polyphonic Pitch Arpeggiator |
| EarthQuaker | AVALANCHERUN | Stereo Delay & Reverb |
| EarthQuaker | BELLOWS | Fuzz Driver |
| EarthQuaker | BITCOMMANDER | Guitar Synthezer Pedal |
| EarthQuaker | BLACKASH | Bender Style Fuzz Pedal |
| EarthQuaker | BLACKEYE | Clean Boost Pedal |
| EarthQuaker | BOWS | Germanium Preamplifier |
| EarthQuaker | CLOVENHOOF | Fuzz Pedal |
| EarthQuaker | DATACORRUPTER | Modulated Monophonic Harmonizing PLL |
| EarthQuaker | DEPTHS | Optical Vibe Machine |
| EarthQuaker | DIRTTRANSMITTER | Fuzz driver |
| EarthQuaker | DISASTERTRANS | Modulated Delay Machine |
| EarthQuaker | DISASTERTRANSJR | Delay Machine |
| EarthQuaker | DISASTERTRANSSR | Advanced Modulated Delay |
| EarthQuaker | DISPATCHMASTER | Digital Delay and Reverb Pedal |
| EarthQuaker | DUNES | Mini Mega Ultimate Overdrive |
| EarthQuaker | ERUPTER | Volcanic Fuzz Pedal |
| EarthQuaker | FUZZMASTERGNRL | Octave Fuzz Blaster |
| EarthQuaker | GHOSTECHO | Reverb Pedal |
| EarthQuaker | GRANDORBITER | Phase Machine |
| EarthQuaker | GRAYCHANNEL | Dynamic Dirt Doubler |
| EarthQuaker | HOOFFUZZ | Germanium/Silicone Hybrid Fuzz |
| EarthQuaker | HOOFREAPER | Tone Reaper/Hoof Fuzz with Octave Up |
| EarthQuaker | HUMMINGBIRD | Repeat Percussions Pedal |
| EarthQuaker | INTERSTELLARORBITER | Dual Resonant Filter |
| EarthQuaker | LEVITATION | Reverb Pedal |
| EarthQuaker | LIFEPEDAL | Distortion/Boost with Octave Pedal |
| EarthQuaker | NIGHTWIRE | Wide Range Harmonic Tremolo |
| EarthQuaker | ORGANIZER | Polyphonic Organ Emulator |
| EarthQuaker | PALISADES | Mega Ultimate Classic Overdrive |
| EarthQuaker | PARKFUZZSOUND | Vintage Fuzz Tone |
| Earthquaker | PITCHBAY | Dirty Polyphonic Harmonizer |
| Earthquaker | PYRAMIDS | Stereo Flanging Device |
| Earthquaker | RAINBOWMACHINE | Polyphonic Pitch Mesmerizer |
| Earthquaker | SEAMACHINE | Super Chorus Pedal |
| Earthquaker | SPACESPIRAL | Modulated Delay Pedal |
| Earthquaker | SPATIALDELIVERY | Voltage Controlled Envelope Filter |
| Earthquaker | SPEAKERCRANKER | Overdrive Pedal |
| Earthquaker | SPIRES | Nu Face Double Fuzz |
| Earthquaker | SWISSTHINGS | Pedal Reconciler |
| Earthquaker | TENTACLE | Analog Octave Pedal |
| Earthquaker | TERMINAL | Destructive Fuzz Device |
| Earthquaker | TONEJOB | EQ & Boost Pedal |
| Earthquaker | TRANSMISSER | Resonant Reverberator |
| Earthquaker | WARDEN | Optical Compressor Pedal |
| Earthquaker | WESTWOOD | Translucent Drive Manipulator |
| Electroharmonix | 22500 | Dual Stereo Looper |
| Electroharmonix | 12AY7MICPREAMP | 12AY7MICPREAMP |
| Electroharmonix | 360NANOLOOPER | Compact Looper Pedal |
| Electroharmonix | 720LOOPER | Looper Pedal |
| Electroharmonix | ANALOGIZER | Analog Saturation/Boost Pedal |
| Electroharmonix | ATTACKDELAY | Tape Reverse Simulator |
| Electroharmonix | B9 | B9 Organ Machine |
| Electroharmonix | BADSTONE | Analog Phase Shifter |
| Electroharmonix | BASS9 | Bass Emulator Pedal |
| Electroharmonix | BASSBIGMUFF | Bass Fuzz Sustainer |
| Electroharmonix | BASSCLONE | Bass Chorus |
| Electroharmonix | BASSMETAPHORS | Line Driver Tool Box |
| Electroharmonix | BASSMICRO | Bass Microsynth |
| Electroharmonix | BASSMONOSYNTH | Bass Guitar Monophonic Synth Filter Pedal |
| Electroharmonix | BASSPREACHER | Bass Compression/Sustainer |
| Electroharmonix | BASSSOULFOOD | Transparent Overdrive for Bass |
| Electroharmonix | BATTALION | Bass preamp & DI |
| Electroharmonix | BLURST | Modulated Filter with Internal Oscillator |
| Electroharmonix | BMWICKER | Big Muff Pi with Tone Wicker |
| Electroharmonix | C9 | Organ/Electric Piano Emulation Pedal |
| Electroharmonix | CANYON | Delay & Looper Pedal |
| Electroharmonix | CATHEDRAL | Deluxe Stereo Reverb |
| Electroharmonix | COCKFIGHT | Cocked Talking Wah & Overdrive |
| Electroharmonix | CORSET | Analog compressor |
| Electroharmonix | CRAYON | Full Range Overdrive |
| Electroharmonix | DELUXEMEMORYBOY | Analog Delay Pedal with Tap Tempo |
| Electroharmonix | DLXBASSBIGMUFF | Deluxe Bass Big Muff |
| Electroharmonix | EASTRIVERDRIVE | Classic Overdrive |
| Electroharmonix | EHXTORTION | JFET Overdrive/Preamp |
| Electroharmonix | EPITOME | Multi-effects pedal with Reverb, Chorus, and Octave FX |
| Electroharmonix | FLATIRON | Op-Amp Fuzz Pedal |
| Electroharmonix | FREEZE | Infinite Sustain Pedal |
| Electroharmonix | G4BM | Overdrive & Distortion Pedal |
| Electroharmonix | GOODVIBES | Modulator Pedal |
| Electroharmonix | GRANDCANYON | Delay/Looper Pedal |
| Electroharmonix | GRAPHICFUZZ | EQ/Distortion/Sustainer Pedal |
| Electroharmonix | HOLYGRAIL+ | Reverb Stomp Box from the Heavens |
| Electroharmonix | HOLYGRAILMAX | Variable Reverb Plus |
| Electroharmonix | HOLYGRAILNANO | Reverb Guitar Pedal |
| Electroharmonix | HOLYGRAILNEO | Reverb Pedal |
| Electroharmonix | HOTWAX | GDual Overdrive Pedal |
| Electroharmonix | KEY9 | Electric Piano Machine |
| Electroharmonix | LESTERG | Deluxe Rotary Speaker Pedal |
| Electroharmonix | LESTERK | Stereo Rotary Speaker Pedal |
| Electroharmonix | LILBIGMUFF | Fuzz |
| Electroharmonix | MEL9 | Tape Relay Machine |
| Electroharmonix | MEMORYBOY | Analog Echo/Chorus/Vibrato Guitar Pedal |
| Electroharmonix | MEMORYMAN | Deluxe Memory Man |
| Electroharmonix | MEMORYTOY | Analog Echo/Chorus |
| Electroharmonix | MICROPOG | Micro Polyphonic Octave Generator Pedal |
| Electroharmonix | MICROSYNTH | Micro Synthesizer |
| Electroharmonix | MISTRESS | Deluxe Electric Mistress Flanger |
| Electroharmonix | MODREX | Polyrhythmic Modulation FX Lab Pedal |
| Electroharmonix | MONOSYNTH | Electric Guitar Monophonic Synth Filter Pedal |
| Electroharmonix | MT1100 | Memory Man Tap Tempo 1100ms |
| Electroharmonix | MT550 | Memory Man Tap Tempo 550ms |
| Electroharmonix | NANOBATALLION | Compact Bass Pre/DI |
| Electroharmonix | NANOBASSBIGMUFF | Compact Bass Distortion Pedal |
| Electroharmonix | NANOBASSBALLS | Nano Bassballs Twin Envelope Filter |
| Electroharmonix | NANOPOG | Polyphonic Octave Generator |
| Electroharmonix | NEOCLONE | Analog Chorus Pedal |
| Electroharmonix | NEOMISTRESS | Flanger Guitar Pedal |
| Electroharmonix | NMUFF | Nano Muff Overdrive |
| Electroharmonix | NSMALL | Nano Small Stone Phase Shifter |
| Electroharmonix | OCTAVE MP | Octave Multi-plexer |
| Electroharmonix | OCEANS11 | Reverb FX Pedal |
| Electroharmonix | OCEANS12 | Dual Digital Reverb FX Pedal |
| Electroharmonix | OCTAVIX | Fuzz + Octave Up |
| Electroharmonix | ODGLOVE | Earthy Overdrive |
| Electroharmonix | OPAMPBIGMUFF | Op-Amp loaded Big Muff fuzz |
| Electroharmonix | PITCHFORK | Polyphonic Pitch Shifter/Harmony Pedal |
| Electroharmonix | PLATFORM | Stereo compressor |
| Electroharmonix | POLYCHORUS | Stereo Poly Chorus Pedal |
| Electroharmonix | Q-TRON+ | Envelope Filter Pedal |
| Electroharmonix | RAVISH | Sitar Emulation Pedal |
| Electroharmonix | RINGTHING | Single Sideband Ring Modulator |
| Electroharmonix | RUSSIANBIGMUFF | RUSSIANBIGMUFF Classic Fuzz Pedal |
| Electroharmonix | SATISFACTION | Keef inspired Fuzz Pedal |
| Electroharmonix | SNGLEXP | Single output expression pedal |
| Electroharmonix | SOULFOOD | Transparent Overdrive Pedal |
| Electroharmonix | SOVTEKDLXBMPI | Sovtek Deluxe Big Muff Pi |
| Electroharmonix | SOULPOG | Octave Generator and Overdrive |
| Electroharmonix | STEREOHAZARAI | Stereo Memory Man with Hezarai |
| Electroharmonix | STEREOPOLY | Stereo Polyphase |
| Electroharmonix | STEREOPULSAR | Micro Pulsar Stereo Tremolo Effects Pedal |
| Electroharmonix | SUPEREGO | Synth Engine Pedal |
| Electroharmonix | SUPEREGO+ | Enhanced Synth Engine Pedal |
| Electroharmonix | SUPERPULSAR | Stereo Tremolo Pedal |
| Electroharmonix | SYNTH9 | Synthesizer emulation pedal |
| Electroharmonix | TONETATTOO | Multi-effects Pedal |
| Electroharmonix | TRIANGLEBIGMUFF | Classic '69 Style Muff Fuzz |
| Electroharmonix | TURNIPGREENS | Soulfood/Holy Grail Max Pedal |
| Electroharmonix | V256 | Vocoder with Reflex Tune |
| Electroharmonix | VOICEBOX | Voice Box Harmony Machine and Vocoder Pedal |
| Electroharmonix | WAILERWAH | Wah Wah Pedal |
| Electroharmonix | WORM | Vibrato/tremolo Pdl. |
| Eventide | TIMEFACTOR | Digital Delay Pedal |
| Fender | BUBBLERCHORUS | Analog Chorus Pedal |
| Fender | COMPUGILIST | Analog Compression/Distortion Pedal |
| Fender | DOWNTOWNEXPRESS | Bass Multi-FX Pedal |
| Fender | ENGAGER | Clean Boost |
| Fender | FULLMOON | Distortion Pedal |
| Fender | LEVELSETBUFFER | Steady Level Buffer Pedal |
| Fender | LOSTHIGHWAY | 4/8 Stage Analog Phaser |
| Fender | MARINELAYER | Fender Multi-Reverb FX Pedal |
| Fender | MIRRORIMAGE | Fender 3 mode Delay FX Pedal |
| Fender | MTGTUBEDISTORT | Fender Real-Tube Distortion Pedal |
| Fender | THEPELT | Fuzz Pedal |
| Fender | THEPINWHEEL | Rotary Speaker Emulator |
| Fender | POUROVER | Envelope Filter Pedal |
| Fender | PUGILIST | Dual Engine Distortion Pedal |
| Fender | REFLECTINGPOOL | Dual Reverb and Delay Pedal |
| Fender | SANTAANA | FET Powered Overdrive Pedal |
| Fender | SMOULDER | Acoustic Focused Overdrive |
| Fender | THEBENDS | Very Natural Smooth Compression Pedal |
| Fender | THETRAPPER | Dual Fuzz/Distortion Pedal |
| Fender | TREVERB | Tremolo/Reverb Pedal |
| Fulltone | 2B | Guitar Boost Pedal |
| Fulltone | 69MKII | Compact Fuzz Pedal |
| Fulltone | 70BC-108C | Aggressive Fuzz Pedal |
| Fulltone | CLYDEDELUXE | Triple Voice Wah Pedal |
| Fulltone | FULLDRIVE1 | Classic 90's Overdrive With Smaller Frame |
| Fulltone | FULLDRIVE2 | Classic 90's Overdrive Reissue |
| Fulltone | FULLDRIVE3 | Guitar Overdrive/Boost Pedal |
| Fulltone | MASMALO | Distortion/Fuzz Pedal |
| Fulltone | OCD | Guitar Overdrive Effect Pedal |
| Fulltone | OCTAFUZZ | Compact Octave/Fuzz Pedal |
| Fulltone | PLIMSOUL | Distortion/Overdrive Pedal |
| Fulltone | SECRETFREQ | Overdrive/Distortion Pedal |
| Fulltone | SOULBLENDER | Tone-Bender Style Fuzz Pedal |
| Fulltone | SUPATREM | Tremolo Pedal w/ Photocell |
| Fulltone | SUPATREM2 | Tremolo Pedal w/ Auto Panner |
| Fulltone | SUPATREMJR | Mini Tremolo Pedal |
| Gremlin Noise | CEREMONIAL | Boutique Preamp Pedal |
| Gremlin Noise | HIGHPRIESTESS | Custom Boutique Distortion |
| Gremlin Noise | MASTERSWORD | Ultra High Gain |
| Gremlin Noise | TRICLOPS | Mythic Fuzz Pedal |
| JHS | Active AB/Y | Powered AB/Y Switching Pedal |
| JHS | ALPINE | Dual Reverb Pedal |
| JHS | ANGRYCHARLIE | Channel Drive Pedal |
| JHS/Boss | Angry Driver JB-2 | Collaborative pedal, "Blues Driver" + "Angry Charlie" |
| JHS | BONSAI | 9-Way Tube Screamer Pedal |
| JHS | Calhoun | Overdrive + Fuzz Pedal |
| JHS | Cheeseball | 90's Inspired Fuzz/Distortion Pedal |
| JHS | Clover | Versatile Preamp/EQ Pedal |
| JHS | CRAYONVI | British Console Distortion/Overdrive |
| JHS | DOUBLEBARREL | 2-in-1 Dual Overdrive Pedal |
| JHS | EMPEROR | Chorus/Vibrato w Tap Tempo |
| JHS | FOURWHEELER | Bass Fuzz and Overdrive |
| JHS | HAUNTINGMIDS | Mid Boost Tone Pedal |
| JHS | HONEYCOMB | Dual Speed Tremolo Pedal |
| JHS | ILLUMINATIMODTM | "Illuminati Mod" Triangle Muff Fuzz |
| JHS | KODIAK | Tremolo with Tap Tempo |
| JHS | LUCKYCATDELAY | Analog Tap Tempo Delay |
| JHS | MINIA/B | Miniature A/B Switcher |
| JHS | MINIFOOTFUZZ | Mini Silicon Fuzz |
| JHS | MOONSHINE | 18V Overdrive |
| JHS | MORNINGGLORY | Clean/Transparent Boost & Drive |
| JHS | MUFFULETTA | Multiple "Muff" Fuzz Pedals in 1! |
| JHS | PANTHERCUBV | Analog Tap Tempo Delay |
| JHS | POLLINATOR | Germanium Fuzz Pedal |
| JHS | PG-14 | FET-Drive Signature Pedal |
| JHS | PULPNPEEL | Compressor/Preamp |
| JHS | RBMPMOSCOWMOD | Classic Fuzz Pedal with Modification |
| JHS | SPACECOMMANDER | Volume/Chorus/Reverb pedal |
| JHS | Spring Tank | Dual Reverb Pedal |
| JHS | SUPERBOLT | Amp Style Overdrive |
| JHS | SWEETTEA | 2-in-1 Dual Overdrive Pedal |
| JHS | THEAT+ | The Andy Timmons Signature Channel Drive Pedal |
| JHS | THEKILT | Distinctive and clean 2-in-1 Overdrive |
| JHS | THEMILKMAN | Delay and Boost |
| JHS | TIDEWATER+ | Mini Tremolo Pedal |
| JHS | TS9-STRONGMOD | Tube Screamer w/ Strong Mod |
| JHS | TS9TRISCREAMER | Ibanez Tubescreamer with JHS Tri-Mod |
| JHS | TWINTWELVE | Silvertone 1484 Style Overdrive |
| JHS | UNICORN | Analog Univibe Pedal |
| JHS | WHITEYTIGHTY | Mini Compressor Pedal |
| Keeley | 1962 | British Overdrive Pedal |
| Keeley | 1962X | 2-Mode Limited British Overdrive |
| Keeley | 30MS | Automatic Double Tracker |
| Keeley | 4KNOBCOMPRESSOR | Compressor Pedal |
| Keeley | ABBEY | Vintage Reverb Pedal |
| Keeley | ARIA | Compressor/OD Pedal |
| Keeley | AURORA | Reverb Pedal |
| Keeley | BASSIST | Bass Compressor |
| Keeley | BUBBLETRON | Dynamic Flanger/Phaser |
| Keeley | CAVERNS | Reverb/Delay Pedal |
| Keeley | CAVERNS2 | Reverb/Delay Pedal with Mod Features |
| Keeley | COMPRESSORPLUS | 4 knob compressor pedal |
| Keeley | COMPRESSORPRO | Pro Studio Compressor Pedal |
| Keeley | D&M Drive | Switchable Drive/Boost Dual Pedal |
| Keeley | DARKSIDE | Modern Fuzz w/ Rotary, Vibrato & Delay |
| Keeley | DDR | Keeley Delay Drive Reverb Multi-FX |
| Keeley | DELAYWS | 8 Delays/8 Reverbs in One Pedal! |
| Keeley | DS-9 | Dual Mode DS-9/SD-1 Distortion |
| Keeley | DYNATREM | Dynamic Tremolo |
| Keeley | DYNOMYROTO | Trichorus/Rotary/Flanger Pedal |
| Keeley | ECCOS | Neo-Vintage Delay |
| Keeley | FILAMENTS | High Gain Distortion |
| Keeley | FUZZBENDER | "Tone Bender" Style Fuzz |
| Keeley | GC-2 | Studio Grade Compressor Pedal |
| Keeley | GOLDSTAR | Vinyl Reverb |
| Keeley | HOOKE | Reverb Effects |
| Keeley | KATANA | Clean Boost Pedal |
| Keeley | MAGNETICECHO | Tape Style Digital Delay |
| Keeley | MEMPHISSUN | Lo-fi Reverb/Echo/Double Tracker |
| Keeley | MODWORKSTATION | Multieffects Pedal w/ Modulation |
| Keeley | MONTEREY | Fuzz, Vibe, Rotary & Wah Effects |
| Keeley | MULTIECHO | Multi Effect Pedal |
| Keeley | NEUTRINO | Envelope Filter |
| Keeley | OXBLOOD | Variable Fuzz/Overdrive Pedal |
| Keeley | REDDIRTOD | Custom overdrive |
| Keeley | REDDIRTGERM | Germanium Version Fuzz Pedal |
| Keeley | ROTTENAPPLE | Op Amp Fuzz Pedal |
| Keeley | SEAFOAMCHORUS | Digital Chorus Pedal |
| Keeley | SEAFOAMPLUS | True Chorus and Vibrato |
| Keeley | SUPERPHATMOD | Full Range Transparent Overdrive |
| Keeley | SUPERMODWS | Analog Multi-effects Pedal |
| Keeley | SYNTH-1 | Monophonic Analog Synthesizer Pedal |
| Keeley | TIMEMACHINE | Dual Boost Pedal |
| Keeley | TONEWORKSTATION | Analog Multi-effects Pedal |
| Keeley | VERBOTREM | Eddie Heinzelman Reverb/Tremolo Pedal |
| Keeley | VIBEOVERB | Ambient Reverberation Machine |
| Keeley | WHITESANDS | Low to Medium Gain Overdrive |
| Korg | PITCHBLACKMINI | Mini Pedal Tuner |
| Korg | PBCS | Custom Tuner Pedal |
| Korg | PBAdvance | High Accuracy Primo Tuner Pedal |
| Korg | XVP20 | Stereo Expression/Volume Pedal |
| Line 6 | DL4 | Delay Modeler |
| Maxon | AD999 | Vintage Series Analog Delay |
| Maxon | CS550 | Vintage Series Stereo Chorus |
| Maxon | DS830 | Vintage Series Distortion Master |
| Maxon | FA10 | Maxon Fuzz Elements "Air" |
| Maxon | FE10 | Maxon Fuzz Elements "Ether" |
| Maxon | FEA10 | Maxon Fuzz Elements "Earth" |
| Maxon | FF10 | Maxon Fuzz Elements "Fire" |
| Maxon | FV10 | Maxon Fuzz Elements "Void" |
| Maxon | FW10 | Maxon Fuzz Elements "Wind" |
| Maxon | FWA10 | Maxon Fuzz Elements "Water" |
| Maxon | OD808 | Overdrive Pedal |
| Maxon | OD808-40K | 40th Anniversary Green Overdrive Keeley Collaboration |
| Maxon | OD820 | Vintage Series Overdrive Pro Pedal |
| Moog | EP-3 | Moogerfooger Expression Pedal |
| Mxr | BGIBBONSOCTAVIO | Billy Gibbons Signature Octavio |
| Mxr | CSP037 | Custom Shop Shin Suzuki Raijin Drive |
| Mxr | CSP038 | "Brown Acid" Custom Fuzz Pedal |
| Mxr | CSP099 | Custom Shop Stereo Phase 99 |
| Mxr | CSP101SL | Phase 90 with LED |
| Mxr | DD25V2 | Green Day Dookie Drive |
| Mxr | DYNACOMP | Compression Pedal |
| Mxr | EVH5150 | Eddie Van Halen Signature Drive |
| Mxr | JHF2 | Fuzz Face |
| Mxr | M83 | Bass Chorus Deluxe |
| Mxr | M103 | MXR Blue Box |
| Mxr | M104 | Distortion Pedal |
| Mxr | M108S | 10-band instrument EQ Pedal |
| Mxr | M107 | Phase 100 |
| Mxr | M109S | 5-Band Equalizer |
| Mxr | M115 | Distortion III Pedal |
| Mxr | M116 | Full Bore Metal High Gain OD |
| Mxr | M132 | Super Compressor Pedal |
| Mxr | M133 | Micro Amp |
| Mxr | M134 | Analog Stereo Chorus Pedal |
| Mxr | M135 | Smart Gate Pedal |
| Mxr | M152 | Micro Flanger |
| Mxr | M169 | Analog Delay |
| Mxr | M169A | 10th Anniversary Analog Delay |
| Mxr | M173 | Classic 108 Fuzz |
| Mxr | M193 | GT-OD Overdrive Pedal |
| Mxr | M196 | A/B Separate Output Pedal |
| Mxr | M225 | Sub Machine Octave Fuzz |
| Mxr | M228 | Dyna Compressor Deluxe |
| Mxr | M234 | Analog Chorus |
| Mxr | M237 | DC Pedal Power Brick |
| Mxr | M250 | Double-Double Two Gain Overdrive Pedal |
| Mxr | M269SE | Carbon Copy Bright |
| Mxr | M280 | Vintage Bass Octave Mini Pedal |
| Mxr | M282 | Bass Dyna Compressor Pedal |
| Mxr | M287 | Sub-Octave Bass Fuzz Pedal |
| Mxr | M288 | Bass Octave Pedal w/ Adjustable Midrange |
| Mxr | M290 | Mini Phase 95 Pedal |
| Mxr | M292 | Carbon Copy Deluxe Analog Delay Pedal |
| Mxr | M294 | Sugar Drive Overdrive Mini Guitar Effects Pedal |
| Mxr | M299 | Mini Carbon Copy Delay Pedal |
| Mxr | M300 | Digital Reverb Pedal |
| Mxr | M303 | Clone Looper Pedal |
| Mxr | M68 | Uni-Vibe Chorus/Vibrato Pedal |
| Mxr | M75 | Super Bad Ass '75 Distortion |
| Mxr | M76 | Studio Grade Compressor Pedal |
| Mxr | M78 | Custom Bad Ass '78 Distortion |
| Mxr | M80 | Custom Bass DI w/ EQ, Distortion & FX Loop |
| Mxr | M81 | Bass Preamp Pedal |
| Mxr | M82 | Bass Envelope Filter Pedal |
| Mxr | M83 | Deluxe Bass Chorus Pedal |
| Mxr | M84 | Bass Fuzz Deluxe |
| Mxr | M85 | Bass Distortion Pedal |
| Mxr | M87 | Bass Compressor Pedal |
| Mxr | M89 | Bass Drive Pedal |
| Mxr | MC401 | Custom Audio Boost |
| Mxr | MC402 | Boost/Overdrive |
| Mxr | PHASE90 | Phase Pedal |
| Old Blood Noise | ALPHAHAUNT | Expanded Fuzz Pedal |
| Old Blood Noise | BLACKFOUNTAIN | Oil Can Delay Pedal |
| Old Blood Noise | DARKSTAR | Pad-Reverb/Delay Pedal |
| Old Blood Noise | DWELLER | Phase Repeater Pedal |
| Old Blood Noise | EQ+BUFFER | 3 Band Equalizer Plus Buffer |
| Old Blood Noise | EXCESS | Distortion + Chorus/Delay Pedal |
| Old Blood Noise | FAULT | Overdrive/Distortion Pedal |
| Old Blood Noise Endeavors | FLATLIGHT | Three Mode Psychedelic Flanger Pedal |
| Old Blood Noise Endeavors | HAUNT | Gated Fuzz Pedal |
| Old Blood Noise Endeavors | MONDEGREEN | Weird Digital Delay Pedal |
| Old Blood Noise Endeavors | MINIM | Reverb/Delay/Reverse Pedal |
| Old Blood Noise Endeavors | PROCESSION | Sci-Fi Reverb Pedal |
| Old Blood Noise Endeavors | OBNEHPAMP | Pedalboard Headphone Amp |
| Old Blood Noise Endeavors | REFLECTOR | Chorus Noisemaker |
| Old Blood Noise Endeavors | REVER | Reverse Reverb/Delay |
| Old Blood Noise Endeavors | SIGNALBLENDER | FX Blender and Switching Pedal |
| Old Blood Noise Endeavors | VISITOR | Parallel Multi-Modulator |
| Old Blood Noise Endeavors | WHITECAP | Asynchronus Tremolo Pedal |
| Orange | AMPDETONATOR | Buffered ABY switcher pedal |
| Orange | BAXBANGEETAR | Guitar Pre/EQ/Drive Pedal |
| Orange | FURCOAT | Octave Fuzz Pedal |
| Orange | GETAWAYDRIVER | Overdrive Pedal |
| Orange | KONGPRESSOR | Optical Class A Compressor Pedal |
| Orange | TWOSTROKE | Boost/EQ Pedal |
| Pro Co Sound | FATRAT | Distortion with Selectable Mosfet Clipping |
| Pro Co Sound | RAT2 | Distortion Pedal |
| Pro Co Sound | YOUDIRTYRAT | Hairy Distortion Pedal |
| Radial | BIGSHOTABY | Radial Big Shot ABY True Bypass Switcher Pedal |
| SUPRO | 1305DRIVE | Supro Retro-Color Overdrive |
| SUPRO | 1310TREMOLO | Supro Retro-Color Tremolo |
| SUPRO | 1313DELAY | Supro Retro-Analog Delay |
| Tcelectronic | ALTEREGO | Vintage Delay & Looper Pedal |
| Tcelectronic | ALTEREGOX4 | Vintage Delay & Looper Pedal with Presets and Tap Tempo |
| Tcelectronic | BRAINWAVES | Pitch-Shifter Pedal |
| Tcelectronic | CORONA | Chorus Guitar Pedal |
| Tcelectronic | DITTO | Looper Pedal |
| Tcelectronic | DITTOJAMX2 | Looper Pedal with onboard Mics |
| Tcelectronic | DITTOX2 | Looper Pedal w/Switchable FX |
| Tcelectronic | FLASHBACK | Delay & Looper Guitar Pedal |
| Tcelectronic | FLASHBACK2 | Delay & Looper Guitar Pedal |
| Tcelectronic | FLASHBACKTRIPLE | Three Engine Delay & Looper Pedal |
| Tcelectronic | FLASHBACKX4 | Delay & Looper Pedal |
| Tcelectronic | HALLOFFAME | Reverb Guitar Pedal |
| Tcelectronic | HALLOFFAME2 | V2 Reverb Guitar Pedal |
| Tcelectronic | HELIX | Phaser Pedal |
| Tcelectronic | HOFMINI | Hall of Fame Reverb Mini Pedal |
| Tcelectronic | HYPERGRAVITY | Compressor Pedal w/TonePrint |
| Tcelectronic | JUNE60 | Compressor Pedal w/TonePrint |
| Tcelectronic | MIMIQ | Doubler Pedal |
| Tcelectronic | MIMIQMINI | Mini Doubler Pedal |
| Tcelectronic | PIPELINE | Tap Tempo Tremolo |
| Tcelectronic | POLYTUNE | Poly-Chromatic Tuner Pedal |
| Tcelectronic | POLYTUNE3 | Poly-Chromatic Tuner Pedal |
| Tcelectronic | QUINTESSENCE | Two Voice Harmony Generator |
| Tcelectronic | SENTRY | Noise Gate Pedal |
| TC Electronic | SPARK | Booster Guitar Pedal |
| TC Electronic | SPECTRACOMP | Mini Bass Compressor Pedal |
| TC Electronic | SPECTRADRIVE | Bass Preamp and Line Driver |
| TC Electronic | SUBNUP | Octaver Pedal |
| TC Electronic | T2 | Reverb Pedal |
| TC Electronic | TALKBOXSYNTH | Talkbox Guitar/Vocal FX Pedal |
| TC Electronic | THEDREAMSCAPE | Chorus/Flanger/Vibrato Pedal |
| TC Electronic | VISCOUSVIBE | Uni-Vibe-style Guitar Effects Pedal |
| TC Electronic | VORTEX | Stereo Flanger Pedal |
| Terry Audio | White Rabbit | Vintage-styled Studio Lineamp Pedal |
| VOX | V846HW | Hand Wired Wah Pedal |
| VOX | V847 | Union Jack Wah Pedal |
| Walrus Audio | 385 | Overdrive Based on a 1950s Bell and Howell 385 Filmosound projector |
| Walrus Audio | AETOS | 8 Output Clean Power Supply |
| Walrus Audio | AGES | Five-Stage Overdrive |
| Walrus Audio | ARP-87 | Multi-Function Delay Pedal |
| Walrus Audio | BELLWETHER | Analog Delay Pedal |
| Walrus Audio | CONTRABAND | Fuzz and Overdrive Pedal |
| Walrus Audio | DEFCON4 | Ryan Adam's Custom Preamp/EQ/Boost Pedal |
| Walrus Audio | DEEPSIX | Compressor Pedal |
| Walrus Audio | DESCENT | Reverb Pedal |
| Walrus Audio | EB-10 | Preamp/EQ/Boost Pedal |
| Walrus Audio | EMISSARY | Parallel Boost Pedal |
| Walrus Audio | FATHOM | Multi-Function Reverb Pedal |
| Walrus Audio | IRONHORSE | Distortion Pedal |
| Walrus Audio | JANUS | Dual Joystick Controlled Tremolo/Fuzz Pedal |
| Walrus Audio | JULIA | Analog Chorus/Vibrato Pedal |
| Walrus Audio | JUPITER | Fuzz Pedal |
| Walrus Audio | KANGRA | Filter Fuzz Pedal |
| Walrus Audio | LILLIAN | Analog Phaser Pedal |
| Walrus Audio | LUMINARY | Octave Generator Pedal |
| Walrus Audio | MAKOD1 | High Fidelity Delay Pedal |
| Walrus Audio | MAYFLOWER | Overdrive Pedal |
| Walrus Audio | MESSNER | Transparent Light-Gain Boost/Overdrive |
| Walrus Audio | MONUMENT | Harmonic Tap Tempo Tremolo |
| Walrus Audio | PLAINSMAN | Clean Boost Pedal |
| Walrus Audio | RED | High Gain Distortion Pedal |
| Walrus Audio | SLO | Multi Texture Reverb Pedal |
| Walrus Audio | VANGUARD | Dual Phase Pedal |
| Walrus Audio | VOYAGEROD | Gain/Preamp Overdrive |
| Wampler | DB+ | Boost/Independent Buffer Pedal |
| Wampler | DRACARYS | High Gain Distortion |
| Wampler | EGO | Dynamic Compressor Pedal |
| Wampler | EQUATOR | Advanced Equalizer Pedal |
| Wampler | ETHEREAL | Dual Delay and Reverb Pedal |
| Wampler | EUPHORIA | Transparent Overdrive |
| Wampler | FAUXSPRINGRVB | Faux Spring Reverb Pedal |
| Wampler | FAUXTAPEECHOV2 | Tape Style Delay Pedal |
| Wampler | LATITUDETREMDLX | Deluxe Tremolo Pedal |
| Wampler | MINIEGO | Mini Compressor Pedal |
| Wampler | PAISLEYDELUXE | Deluxe Brad Paisley Signature Overdrive |
| Wampler | PAISLEYDRIVE | Brad Paisley Signature Overdrive |
| Wampler | PANTHEON | Blues-Breaker Style Distortion |
| Wampler | PINNACLESTD | Mid-Contoured Distortion |
| Wampler | TERRAFORM | ModulationMulti-FX Pedal |
| Wampler | TUMNUS | Small Footprint Centaurian Klone |
| Wampler | TUMNUSDELUXE | Centaurian Klone Pedal EQ |
| Wampler | VELVET | Mega Stacked Fuzz |
| Warm Star | SHAPESHIFTMOUNT | Filter & LFO Pedal |
| WAYHUGE | BLUEHIPPO | Analog Chorus Pedal |
| WAYHUGE | CONQUISTADOR | Fuzztortion Pedal |
| WAYHUGE | CONSPIRACYTHEORY | Pro-Overdrive Pedal |
| WAYHUGE | ECHOPUSS | Analog Delay Pedal |
| WAYHUGE | GREENRHINO | Amp-Like Overdrive Pedal |
| WAYHUGE | MINIAQUAPUSS | Mini Analog Delay |
| WAYHUGE | OVERRATEDSPCL | Limited edition overdrive |
| WAYHUGE | PORKANDPICKLE | Bass Jumbo Fuzzy Pedal |
| WAYHUGE | SUPA-LEAD | Jumbo Fuzzy Pedal |
| WAYHUGE | SWOLLENPICKLE | Jumbo Fuzzy Pedal |
| ZVEX | 59SOUNDVERT | Vertical '59 Inspired Distortion Pedal |
| ZVEX | BASSTORTRON | Bass Distortion Pedal |
| ZVEX | BOXOFROCK | Dual Distortion Pedal |
| ZVEX | BOXOFROCKVERT | Vertical Dual Distortion Pedal |
| ZVEX | DISTORTRON | Distortion Pedal |
| ZVEX | DOUBLEROCK | Distortion/Boost Double Pedal |
| ZVEX | FATFUZZFACTORY | Fat Fuzz/Gate Pedal |
| ZVEX | FUZZFACTORY | Vector Series Fuzz/Gate Pedal |
| ZVEX | FUZZOLO | Mini Fuzz Pedal |
| ZVEX | INSTANTLOFIJUNKY | Vexter Series Modulation & Chorus/Vibrato Pedal |
| ZVEX | MASTOTRON | Silicon Fuzz Pedal |
| ZVEX | SONAR | Super-Tremolo Pedal |
| ZVEX | SUPERDUPER | Overdrive/Distortion Pedal |
| ZVEX | SUPERHARDON | Ultra Transparent Boost |
| ZVEX | VIBROPHASEVERT | Vibrato/Phase Pedal |
| ZVEX | WOOLLYMAMMOTH | Fuzz Pedal |