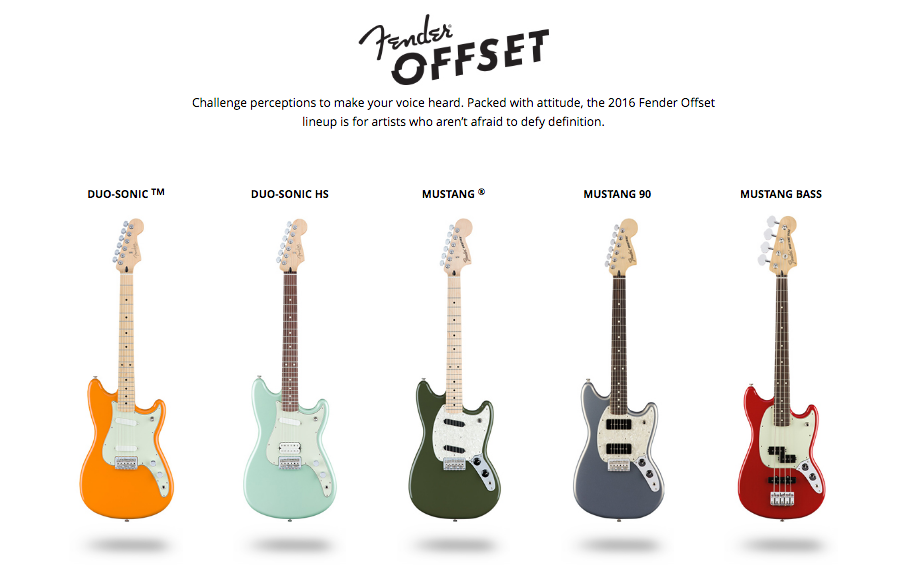 Fender have unleashed four recreations of their classic short-scale offset guitars! They display classic offset vintage style looks, with updated nuts and bolts, and hot-rodded electronics, all with the modern musician in mind. The DUO SONIC & MUSTANG were originally designed as "student guitars", but their playability, style and quality components have been widely celebrated. From David Byrne (Talking Heads), to Kurt Cobain (Nirvana), and even all the way to John Mclaughlin (guitarist for Miles Davis), these guitars have left a big mark on the music world.
The reimagined DUO SONIC is more than just a reissue. It pays homage to it's original version with it's revered single-coil pickup chime that growls as well as it sings, while also perfecting small aspects of the design with a simple but clever three-way pickup selector, and through-body stringing system that increases resonance and note definition.
Fender didn't stop with just one version of the classic DUO SONIC though...they made a second with another modern twist - a humbucking bridge pickup! Get thick and bright tones while using just the bridge pickup, or blend it with the classic single coil. This guitar features a split coil, so you can blend both pickups and get the best of both worlds. Check it out below!
The new edition of the Mustang doesn't lose any of the charm that made it an instant classic. Originally released in 1964, the Mustang dominated the short-scale world with it's sleek look and slinky, easy playability. With this updated version you get the classic look and feel, with some awesome upgrades like comfortable maple neck, angled pickups with wider frequency response, a three-way pickup selector and string through body design. What's not to love?

For the guitar tone wizards, Fender introduces the Mustang 90. Classic offset short scale body and neck with a whole new sound. The Fender P-90 pickups are piping hot and ready to rock, and with the split coil design, you can run them both simultaneously! If you run your amp clean, you get clear tone with boosted mids and chimy treble - throw on some overdrive or fuzz and these pickups scream! Apart from the pickup alteration, you also get all of the modern features of the Mustang reissue, including the string through-body design, three way pickup selector and 9.5" neck radius.
Since its original release in 1964, the Mustang Bass has been one of Fender's most enduring bass designs, finding its way into the hands of bassists ranging from The Rolling Stones to My Chemical Romance. It has a wide appeal for the playability of a shorter neck, and "set and forget" pickup tone. With the Mustang PJ, Fender are creating a new classic instrument more than reissuing a classic. This monster of a bass rocks the playability of the Mustang Bass, but also sports Fender's three best bass pickups ever, with the highly revered Precision Bass pickup duet, with the classic Jazz bridge pickup for the ultimate tone attack. Combine them with the three way pickup switch, or dial into versatile tone settings! This Mustang PJ Bass is a dream come true.
Weighing in at under $500, Rock n Roll Rentals has the 2 Mustang and Duo Sonic Electric Guitars available. Come check them out! You can take them for a month long test drive for only $28, and then buy it when you realize you can't live without it! Pick up the PJ Mustang bass for only $28 on a monthly rental , and make it yours for only $549.